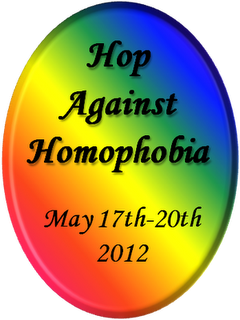 The Bunnies come from all over the world, and we write different genres. But we agree: homophobia and transphobia must end. People are people, and love is love. We all fully support the International Day Against Homophobia, and some of the Bunnies want to tell you why.
Sasha
It gets better…
Time heals all wounds, dogs that bark don't bite, caveat emptor, hope springs eternal, your eyes will get stuck like that, quod licet jovi non licet bovi… there's lots of sayings like that out and about, and I'm sure you've heard a few yourself – from your grandmother(s), assorted aunts and uncles, parents, cousins, teachers. Mostly with either a long-suffering expression on their face or one that's just one step away from smug.
And then someone comes along and tells you "it gets better". What do they know, right? Why should you believe them?
I'll freely admit that I don't know what it's like to be subjected to the prevailing prejudice against any non-heterosexual relationships or sexuality in general.
That doesn't mean I can't say "it gets better", though, because the power of those three words lies in the belief of people who say it, think it, promote it. If even one person believes, then it can get better.
The best place to start is to believe in yourself. Never lose hope, and always remember: It gets better.
So here's one more saying for you, something everyone should take to heart:
Audaces Fortuna Iuvat – Fortune favours the Brave.
Three
I just read the most interesting article. It's called "15 Things You Should Give Up In Order To Be Happy," and it really made me think. Specifically, number 15 struck a chord with me.
"Give up living your life to other people's expectations." Like is says below that number, people forget about themselves. I've done it. My husband has done it. My kids are likely going to do it.
It's not a good thing to forget about yourself. I joke that I have the excuse of being a mother, but as I write this I'm on the verge of insanity because I've been stuck in the house with my sons for two days. All I want is a moment to myself, but when I'm constantly worrying about the needs of my family, it's kind of impossible. All I want to do is go to a coffee shop and write until my fingers bleed, but I can't do that right now.
But I know I want it.
You should know what you want for yourself and go for it.
It doesn't matter 'what' you are. It matters who you are. It matters what you want in life. If what you want is to live your life, do it. If what you want is to write, do it. If what you want is to love who you want to love, do it.
Not everyone will agree with your choices, but guess what? Not everyone matters. You matter. Life your life for you, not anyone else.
That's all that matters. Just ask the couple I know who have been together 35 years and finally got married this month. It gets better.
Bella
Sometimes life is hard. Sometimes life is amazing.
We don't have to make it hard for others to make our lives more amazing though.
I heard once when I was a kid, "They're only doing it to make themselves feel better." What does that mean? They're life wasn't good enough so they thought picking on me would be a way to make themselves a better person? Sadly, it is true that some folks aren't happy unless they are making someone else unhappy. My mom said that when I was little, I would get in between two fighting or arguing children and say, "Who raised you to act like this?" Six years old and I was already calling out poor parenting! No wonder I studied Human Development and Education. Thankfully, my mother was a strong woman who taught me that it just isn't enough to be good, she also taught me to stand up when I knew something was wrong.
Spreading hate in America is wrong. Just as wrong as segregation was 50 years ago.
Eleanor Roosevelt said, "No one can make you feel inferior without your consent." I try to live by that rule everyday. You can't make me feel badly about who I am unless I let you. No matter who tries, whether it is a bully child or a bully politician, we can choose to live our lives above their influence.
It hurts my heart that there are states like NC and AZ that wish to make a citizen of America less than another. It is not okay. I won't pander to those reading our blog, you guys know my feelings. Half of America shares my feelings. Now we need to stop talking and start doing.
On a day like today, we need to celebrate our differences, our weirdness, our unique abilities, and who we are as humans. We are all humans and as long as we choose love over hate, we are better for it.
In the end, we are judged not by how we hate, but by how we love. Love lots and speak out against hate.
Michelle
Oh, North Carolina. You have made me one riled up, angry citizen, and I can honestly say that, one week ago today, I was ashamed to live here.
May 8th was a day that could, and should, have been full of promise. Full of hope. Alas, more than sixty percent of our great state contributed to the continuation of hate, bigotry, and ignorance. My Facebook timeline was full of people celebrating come 10pm, which is when the results began pouring in from the various news networks. "Amendment One passed!" many of the statuses read. "Thank goodness!"
Really? So, what you're saying is that, you're thankful we took a step back? That we're essentially discriminating against people for simply being themselves? For something completely beyond their control? Is this not reminiscent of the shameful period in our history during which we judged people based on…wait for it…something they could not control? Perish the thought! I wanted to lash out and scream at these people. I wanted to approach every one of them face-to-face and demand to know exactly who they thought they were. But then, I realized: that would make me no better than them.
Lord knows, it hurts my heart to see that people still believe these things. It kills me to know that my child will grow up in a world that's still full of hate. I can only hope that I, along with other parents of this generation, will raise my child(ren) to love others for who they are. For their character. For the way they treat other people.
Many people try to throw out religious jargon in situations such as this, but I hold fast to one commandment from the good book itself: Love others the way that Jesus loves you. How hard is that to comprehend? It's really quite simple. And honestly? It makes life a lot more pleasurable. Just give it a try, America. Please. And to those of you affected by this mess, I promise you: we're not all like them. And yes, it does get better.
Kerry
Growing up in the 70s and 80s, my parents taught me that everyone deserves equal opportunity and equal respect. They told stories about the 60s in Alabama. About the injustice people will do to other people based on religion, race, gender, or class. They didn't talk about homophobia back then. If they knew any LGBT people, they never mentioned it to me or my brother.
But then AIDS came along. My parents were horrified by the discrimination against those with HIV and AIDS and the rampant homophobia that accompanied fear of the disease. Having never discussed it before, they now made it clear that sexual orientation (back then it was called "preference") should be added to the list of things by which we weren't to judge people.
Unfortunately, not everyone had parents like mine. They were raised by people who live in fear, and they in turn raise people who live in fear. They fear anyone different, anyone honest. And they want everyone else to be afraid, too.
As the saying goes, it gets better. Does it? I fervently hope so. I want to live in a country where people can be true to themselves. I want the richness of the South to include tolerance for everyone, just like my parents believed it should. But it can't just be LGBT persons that fight for it. We all have to.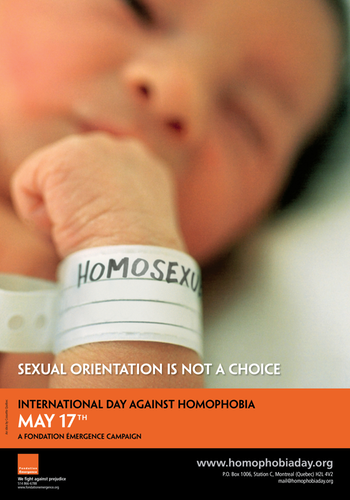 To mark the International Day Against Homophobia, we have a request and a gift.
The request: Visit these websites and consider donating to their efforts.
International Day Against Homophobia
The gift: One copy of It Gets Better: Coming Out, Overcoming Bullying, and Creating a Life Worth Living, edited by Dan Savage and Terry Miller. Simply leave a comment with your email address, and we'll pick a random commenter on Sunday May 20th. You may choose paperback, hardback, or Kindle edition, and we'll send it to you. We'll even donate in your name to a library, if you'd rather.
Visit the Hop Against Homophobia site to see a list of the 250+ other blogs participating.
---
---